The IAA was founded during the general meeting at the 49th Rencontre Assyriologique Internationale in London (7-11 July 2003). It is a non-profit organisation and a non-political institution.
The goals of the IAA are:
To serve as a platform for scholars working in Cuneiform Studies, and Near Eastern Archaeology.
To discuss all matters concerning these fields.
To encourage and promote the study of these fields in all their aspects on an international basis.
It aims to further these goals by:
supporting and facilitating the organisation of a regular international congress of Assyriology and Near Eastern Archaeology, known as "Rencontre Assyriologique Internationale".
stimulating collaboration between its own members, as well as between them and members in other fields and associations.
acting as a representative body for the fields of Assyriology and Near Eastern Archaeology in relationship to national, international and private institutions and the general public.
encouraging publications and disseminating information of interest to its members.
These goals are all to be understood in the widest sense of the words and include all that is connected with them or will contribute to them.
Prof. Dr. Cécile Michel (president)
Prof. Dr. Steven Garfinkle (vice-president)
Dr. Cinzia Pappi (secretary)
Dr. Aaron Schmitt (vice-secretary)
Dr. Caroline Waerzeggers (treasurer)
Dr. Heather Baker (vice-treasurer)
London 9 July 2003: the meeting during which the I.A.A. was founded
(Photo courtesy of Fanie Vermaak)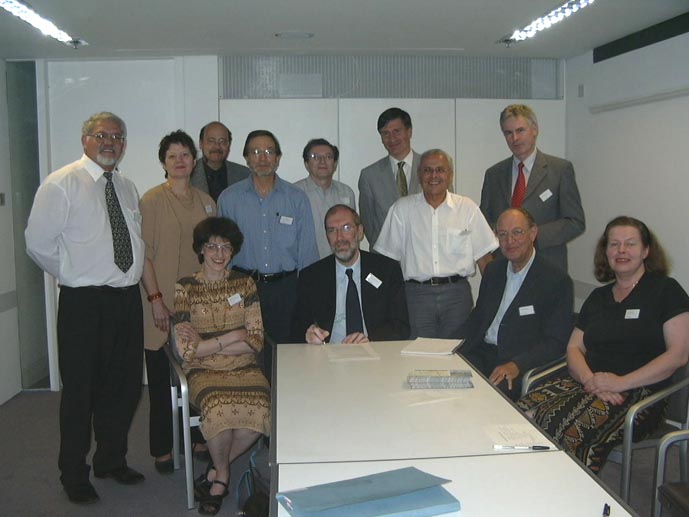 Standing from left to right: Fanie Vermaak (Pretoria), Martha Roth (Chicago), Hans Neumann (Münster), Jerrold Cooper (Baltimore), Jack Sasson (Nashville), Dominique Charpin (Paris), David Owen (Ithaca) and Gernot Wilhelm (Würzburg).
Sitting from left to right: Natalia Koslova (St. Petersburg), Wilfred van Soldt (Leiden), Klaas Veenhof (Leiden) and Raija Mattila (Helsinki).