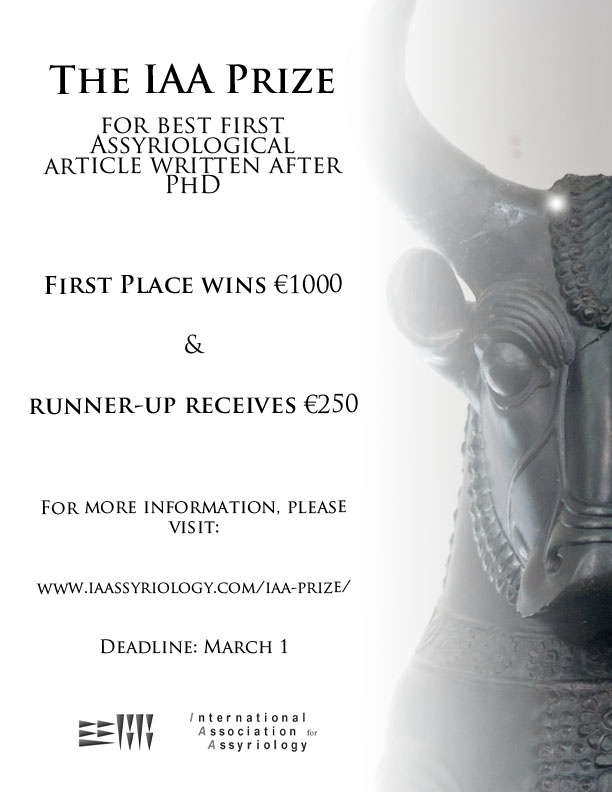 The IAA awards a prize for the best first article written after the Ph.D. in Assyriology and Mesopotamian archaeology.
The winner for 2017 is:
– Johannes Hackl, "Zur Sprachsituation im Babylonien des ersten Jahrtausends v. Chr. Ein Beitrag zur Sprachgeschichte des jüngeren Akkadischen," In S. Finck, M. Lang and M. Schretter (eds), Sprachsituation und Sprachpolitik in Mesopotamien. AOAT [accepted for publication].
The runner-up for 2017 is:
– Elena Soriga, "Mari(ne) purple: western textile technology in Middle Bronze Age Syria," in H. Enegren & F. Meo (eds), Treasures from the Sea: Sea Silk and Shellfish Purple Dye in Antiquity. Ancient Textiles Series 30, Oxford: Oxbow Books, 2017, p. 79-95.
Please observe the following rules and regulations:
Conditions
The article should be written in one of the official RAI languages, French, German or English.
The article should be published, or should have been accepted in final form for publication, within the last two years and no more than five years after the PhD.
Applicants must be members of the IAA.
A person can apply only once. There is no age limit.
The winner will receive € 1,000 and the runner-up will receive € 250.
Committee
The committee will consist of four persons, one from the IAA Board and three from among the other members of the IAA.
The committee members will serve for three years, after which a new committee will be chosen.
 Time table
Articles should be submitted as a PDF file with embedded fonts to the dedicated email address (below) no later than March 1.
The members of the committee will evaluate the articles and make a preliminary ranking.
The committee will submit its selection report to the IAA Board no later than May 1.
During the following Rencontre the conclusions will be discussed at the Board meeting.
The prizes will be awarded during the general meeting.
Please send your article to the following email address: IAAprize@iaassyriology.com
Please also confirm the date on which your PhD was awarded, and also the full publication details of your article.
In the case of an article that has been accepted for publication but has not yet appeared, please supply written confirmation from the editor that the article has been accepted.